The name of this blog is inspired by the fact that we are not your average physical therapists. Our passion at Mobility Doc is understanding movement and helping our community. We help our patients, clients, and MDonline members achieve their goals to become their best selves. Many of us go through life with small nagging injuries or begin losing functional movement without even knowing it. That is why for the past 10 years, our physical therapy practice has made it our mission to educate and help bring you back to your 100%. Let us introduce you to why we are different, excellent at what we do, and why we care.
You are probably thinking "are they really different?". The answer is yes. Our team is composed of highly trained athletes that competed in and continue to train at high levels in their respective sports. You're not average, so why should your care be? We understand what it takes to be competing or working at peak performance and it is no easy feat. Injuries happen. Loss of mobility, strength, and stability happens. It should not stop you from doing what you love. Having a doctor, friend, or loved one say to you "maybe it's just time" can be one of the hardest things to hear. We have treated 1000's of active people like yourself, draw on these experiences, and then apply it specifically to your needs. We are not just about reducing the pain you're in, but resolving it and helping you be stronger than you thought you ever could.
At Mobility Doc we pride ourselves in keeping up with the latest techniques for recovery. We use traditional manual therapy coupled with graston therapy, STEM treatments, Normatech's compression technology, among other things (more detailed information to come on these). Technology is great if you know how to use it. Which brings us to education.
Knowledge is power. We believe that educating our community helps heal as well as prevent you from future injury. During your physical therapy session, we take the time to explain the how, what, and why of the exercises.
· How you should be doing the exercises
· What this exercise is targeting
· Why this specific movement is helping your recovery
This can be a lot of information to take in, so we have a YouTube channel devoted to just that. The channel is easy to access, with us doing the exercises and providing detailed explanations. Helping you understand how your body should move and how to make it stronger, more stable, and increase range of motion is what we do best.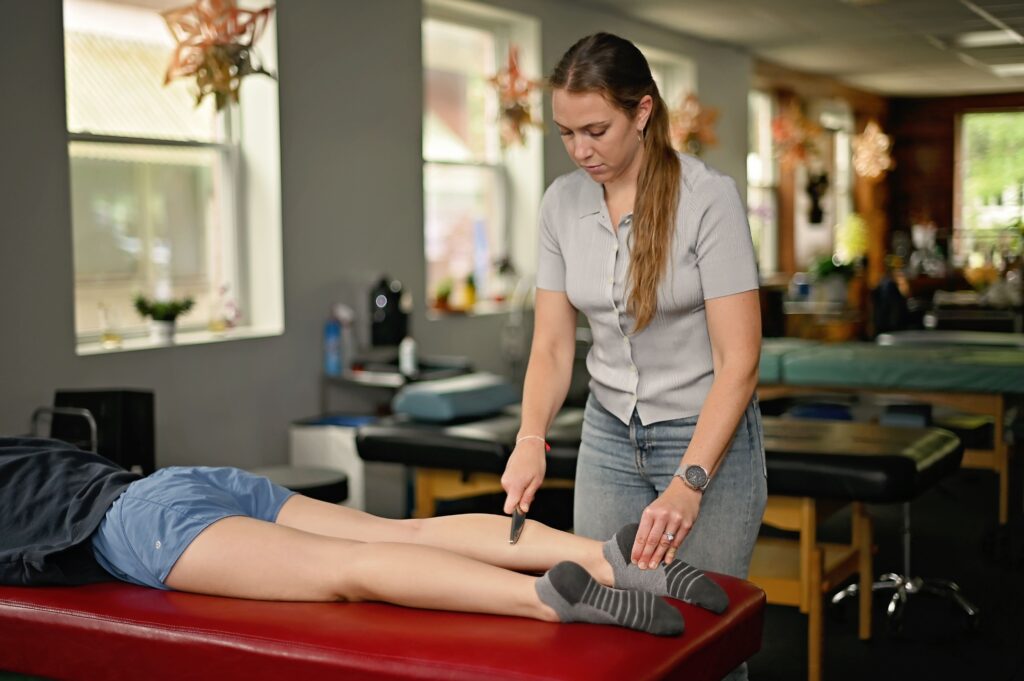 What drove us to create Mobility Doc is the need to provide personalized care to the people we serve. Our team hears countless stories of patients feeling like a number or being reduced to a diagnosis of tendinitis. You're not that, and you deserve better. To us personalized care is not just understanding your injury, but your entire body and how it moves. Each person is unique which is why we identify what will work best for you and your goals. By getting to know you we create trust. Trust that signifies your understanding that we see you, hear you, and will guide you to where you want to be.
So why should you join our community? Because we want to help support you to be your best self. You should not let whatever issues you are facing define you. Instead, allow it to make you stronger; physically and mentally. You never want to settle. That is what separates you from being average. Trust us, and let our team here at Mobility Doc help you overcome these obstacles.
Now that you know a bit about us and why we decided to do what we love, we hope you continue to join us here as we talk about the body, different ways to care for yourself, and have some fun along the way. Next week we are going more in depth with services we offer not just to get you back to your 100% but to keep you there.
Check out some of our latest content that allows you to not only understand your body, but continue moving in healthy ways. We have tons of resources on our YouTube channel to keep you bulletproofed.
Here we go in depth with our Mobility-Doc method of using physical therapy based fitness. Subscribe for our latest content!