Your physical therapy is over and you're officially back to feeling good, but still have some discomfort from time to time.  You know you have more range of motion in your body but just can't seem to reach it.  Does this sound like you?  MD Online is your solution to solving all the above problems and more.  Our online programs offer rehabilitation, fitness, and education all in one place.  This community is all about injury prevention, or as we call it "bulletproofing", and proper body movement. That means you can stop wasting time and money putting band aids on little issues.  The best part is that we offer free and paid content so you can choose what suits you best.
MD Online is a collection of different programs integrated with physical therapy based circuits.  Creating the perfect recipe for injury prevention wasn't easy, but that is exactly what Drs. Chloe and John do best.  Based on over 100,000 hours of experience, all content is created by them. Working with everyone from Olympians to weekend warriors gives us an opportunity to find a better way to reinforce proper body mechanics.  In doing this, we created our own style of circuit called the "Mobility Doc Method".  This style of circuit makes your foundation stronger, more flexible, and more fit.  Let's talk about what MDEdu, MDRx, and the three levels of MDFit are and how they can bulletproof you.
Our first program, MDEdu, is home to free educational resources.  This program is updated weekly and organized by region of the body.  Found on our social media channels, you can learn how different parts of the body function and how to move better.  Education is the key to injury prevention.  If you know how to move well, you will.  You may be thinking "I move just fine".  Well, I'd like to offer a little challenge.
Below is a short video featuring Dr. John demonstrating how to do a seated functional movement test for your shoulders.  The only thing you need is to know the length of your hand.  This is the distance from the crease at the bottom of your palm to the tip of your longest finger.  If you don't want to measure, the average size of an adult man's hand is 7.6 inches and a woman's 6.8 inches.  You will need a friend to help you measure the distance between your fists, or a mirror if you want to guesstimate.
If you have 1 hand length between your hands, you're in good shape!  Do you have 1 ½ hand lengths?  That isn't great, but could be worse.  If you have more than 1 ½, you should probably start doing some mobility work.
So, how did you do?  If you have pain, tension, or any discomfort completing the challenge then following our MDEdu can help benefit you.  Any kind of asymmetry can heighten your chances of injury.  Why not prevent it by learning to move well?  We will help you understand how your body should move and ways to help you regain your mobility.
The second program, MDRx, is a 4-week problem specific physical therapy based fitness program.  If you're tired of going to the doctor and getting written off, these area specific programs are for you.  We currently offer 4 regions including the back, hip, neck, and shoulder.  These programs consist of highly effective, easy to follow exercises that take no more than 30 minutes a workout.  For a one-time payment of $10, you will receive 3 workouts a week for 4 weeks to your region of choice (that is 12 workouts for $10!!).  These workouts build on each other as the weeks progress continuing to challenge, mobilize, stabilize, and strengthen your problem area.  They can be done wherever and whenever you want.  These programs are free to our MDFit subscribers.
Interested in trying out a program?  
Our last set of Online programs is intended to take you to the next level by supplementing your everyday routine.  MDFit is made of 3 workouts a week ranging anywhere from 15 to 45 mins.  Each work out targets a different part of the body; upper body, lower body, and core.  They all improve the mobility, stability, and strength of your general foundation with a focus on the area of the day.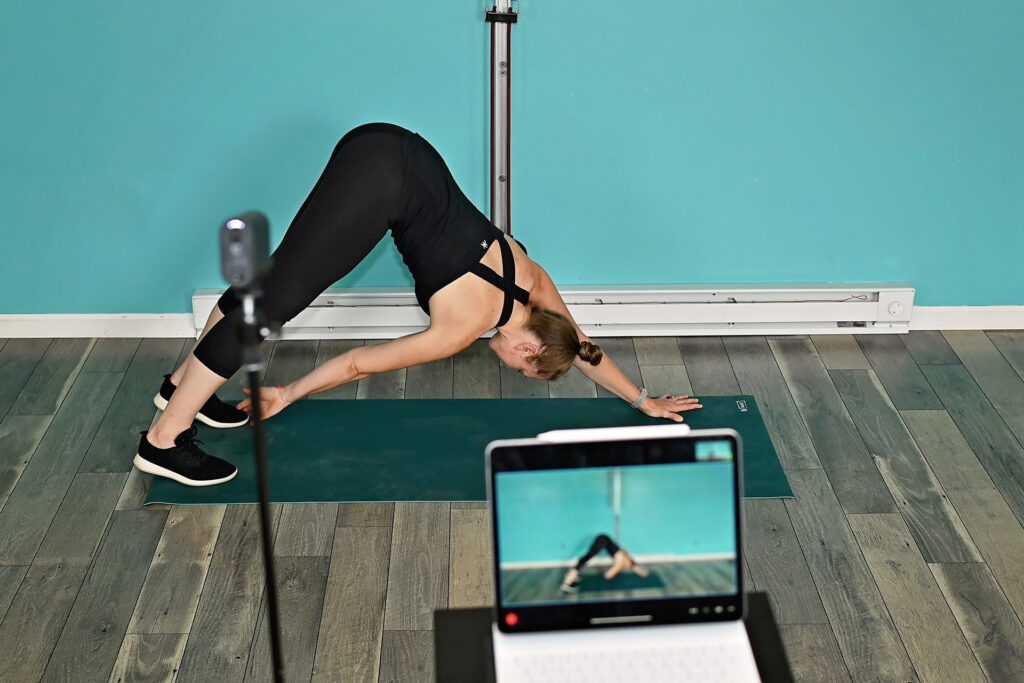 There are three different levels of programming to choose from: essentials, strength, and barbell.  Proper movement is the same no matter what you're doing.  That is why all our programs begin with the same physical therapy based Mobility Doc Method triplet and strength training that can be tailored to your level.  After the triplet and strength portions are complete, the circuit and conditioning portion changes depending on your program selection.  Here is a summary of what each workout has to offer:
MDFit Essentials (~ 20 mins) – For the person looking to maintain strong foundation and muscle balance
(You do not need conditioning – FUNCTIONAL MOVEMENT)
 

Mobility Doc Method Triplet

 

Strength training on focus area of the day
MDFit Strength (~ 30 mins) – For the person who has their gym routine down and wants some conditioning
(You do not want to use a barbell – LET'S SWEAT!!)
 

Mobility Doc Method Triplet

 

Strength training on focus area of the day

 

HIIT work out
MDFit Barbell (~ 45 mins) – For the person who knows they need more and wants to use a full gym set-up
(You want use of barbell – BRING IT ON!!)
 

Mobility Doc Method Triplet

 

Strength training on focus area of the day

  Barbell strength and conditioning
No matter what you're looking for, our online community has something to offer you.  All our programs are built from years of physical therapy and understanding our clients' foundations' needs.  This understanding translates directly into our specialized triplet and at the end of the day, injury prevention and your performance.  Proper movement and full range of motion allows you to perform at your body's peak level.  I challenge you to try one of our programs to see how it can impact your overall mobility, stability, and strength.  Let us help you bulletproof your body.  Each program offers a free trial week, so you have nothing to lose!  Join us and see for yourself.