To say we are thankful doesn't quite say enough.  We appreciate every single person who has come into our lives through our business.  There is something learned and special with everyone that we work with.  We thank you from the bottom of our hearts for your continued support as we continue to grow together.  Happy Holidays from your friends at Mobility-Doc.
We hope you enjoyed the delicious banana bread from last week's blog!  Just because Thanksgiving is over doesn't mean our schedules will be slowing down any time soon.  Percussion therapy tools such as the Hypervolt series by Hyperice are a great way to work through some of your everyday stiffness.  Let's explain what hypervolts are really doing, good opportunities to use them, and find which version is the one for you.
What do Hypervolt's really do?
Hypervolt's are a percussion therapy tool.   The word percussion is taken from exactly what you're thinking, the drums.  Just like you would beat on a drum, the head of the hypervolt repeatedly drums into your muscle.  If you're not sold on the idea, you must not have tried one yet.  It feels awesome!  The repeated drumming is actually increasing blood flow to the area which helps it to decrease stiffness.  This decrease of stiffness can improve your range of motion in the joint or muscle you're working on.  You can benefit from this before and after your workout.  On top of that, similar to touching your muscle to bring awareness to it, the hypervolt can also reactivate your muscle by using it for a moment mid workout. 
This type of tool is surprisingly versatile and honestly, there isn't a great time not to use the hypervolt.  Light weight, carry on friendly, and quiet, it can be taken and used anywhere.  Excellent for warm ups and cool downs, this machine gets into those areas that need a little extra attention.  It's always important to make sure you're getting the entire muscle to warm up first before focusing in on an area.  Like most things, it is possible to do too much and irritate your muscles.  Everyone's body is different, so you need to do what is best for you.  General rules of thumb are for activation and pre-work outs you only need about 30 seconds of stimulation. Post workouts or recovery usage shouldn't exceed much more than 2 mins.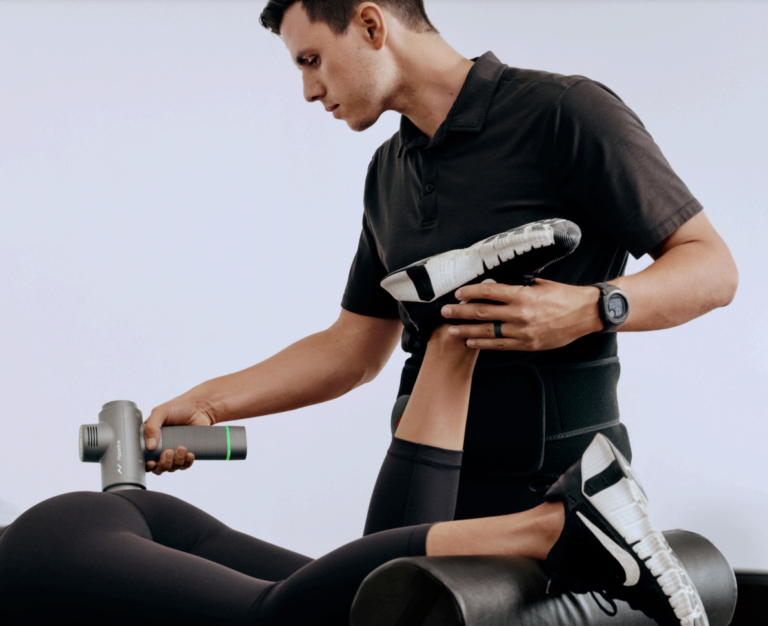 I mentioned earlier that it's carry-on friendly.  If you're doing a lot of traveling this holiday season you can bet that sitting stiffness in the car or plane is going to set in.  The hypervolt is an excellent way to help combat those tight muscles and knots you get during travel.  It's more compact and easier to travel than your typical foam roller and will give you not the same, but similar relief. 
Which Hypervolt is right for me?
Not all percussion therapy guns are made the same.  The Hypervolt series consists of the Go 2, the 2, and the 2.0 Pro.  With all of the guns in this line, you can expect a very high quality product.  Battery life for all 3 models lasts 3 hours, they are TSA approved carry-on friendly, and they all weigh under 3 lbs.
If you're looking for something light that still packs a punch, look no further than the Hypervolt Go.  It has 2 head attachments with 3 speed settings and a 40 watt motor.  It's very compact and easy to take with you anywhere.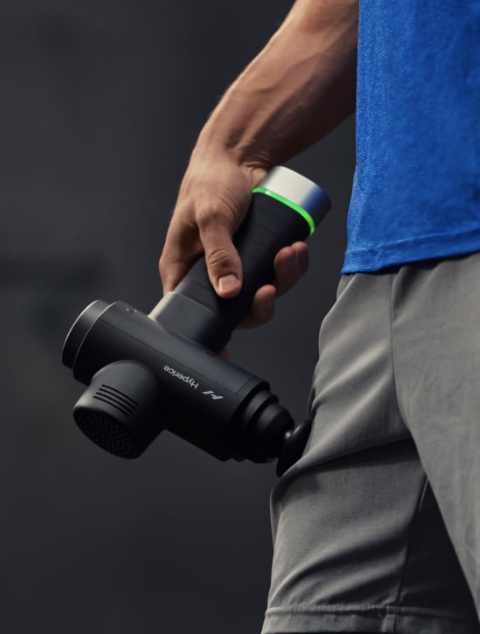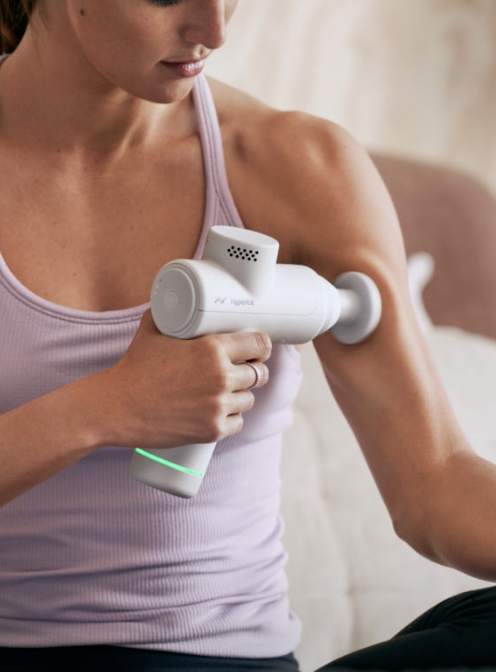 The Hypervolt 2 jumps up a notch by having 5 head attachments, a 60 watt motor and 3 speed settings.  The extra power and head attachments are great for being able to get at those problem areas with a bit more intensity than the Go version.  This model and the Pro model also feature pressure sensor technology to see how much pressure you're applying to the muscle, and bluetooth for automated speed control.  Still incredibly lightweight and easy to travel, it's an excellent step up if you're looking for a little bit more.
Hyperice's Hypervolt 2.0 Pro is a monster of a massage gun.  Featuring 5 head attachments, 5 speed settings, and a 90 watt motor, this thing is basically unstoppable.  The biggest takeaway from getting the 2.0 pro is going to be the ability to apply loads of pressure and the gun will still continue to drum.  Some other models out there will boast similar kinds of output but fail in comparison.  Because it is a handheld device, you can push as much or as little as you need to get the desired pressure you're looking for.  Let's just say, you won't be disappointed!
No matter which one you choose, all 3 models are great at what they do.  Because it's the holiday season, Hyperice is having huge sales on all of their products.  What may have seemed a little out of your price range might now just be under budget.  We would never recommend something to you that isn't a quality product.  From personal experience and use of these products in our office every day we are the first to vouch that they are awesome.  If you were teetering on wanting one before, or looking for a great gift for your gym going buddy, we can tell you that now is the time to buy!  These are going to be our lowest prices of the season guaranteed.  Stop in and see us if you have any questions!